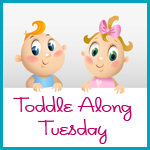 I found such a cute blog hop, that I had to participate and share. I know, I know. I am a little late, but it's better late than never, right? Anyway, this is our diaper bag by JJ Cole (Mode Tote). I absolutely love it! One day I might get a bigger, better one. For now, this one is just fine.
2. Changing pad (came with)
3. Formula (not too much longer though yay), sippy cup, juice (just incase), baby food
4. Mommy needs (wallet, hand sanitizer, chapstick)
5. Coat (sometimes extra clothes)
6. Wipes and diapers
7. Snacks (currently cherrios and mum mums)
8. Lotion, teething tablets, diaper rash cream, disposable diaper bags
9. WIC stuff and immunization records
10. Bib and receiving blanket (just in case of messes)

+ various toys we grab for him
For you mamas, what is in YOUR diaper bag? Feel free to tag along and share!